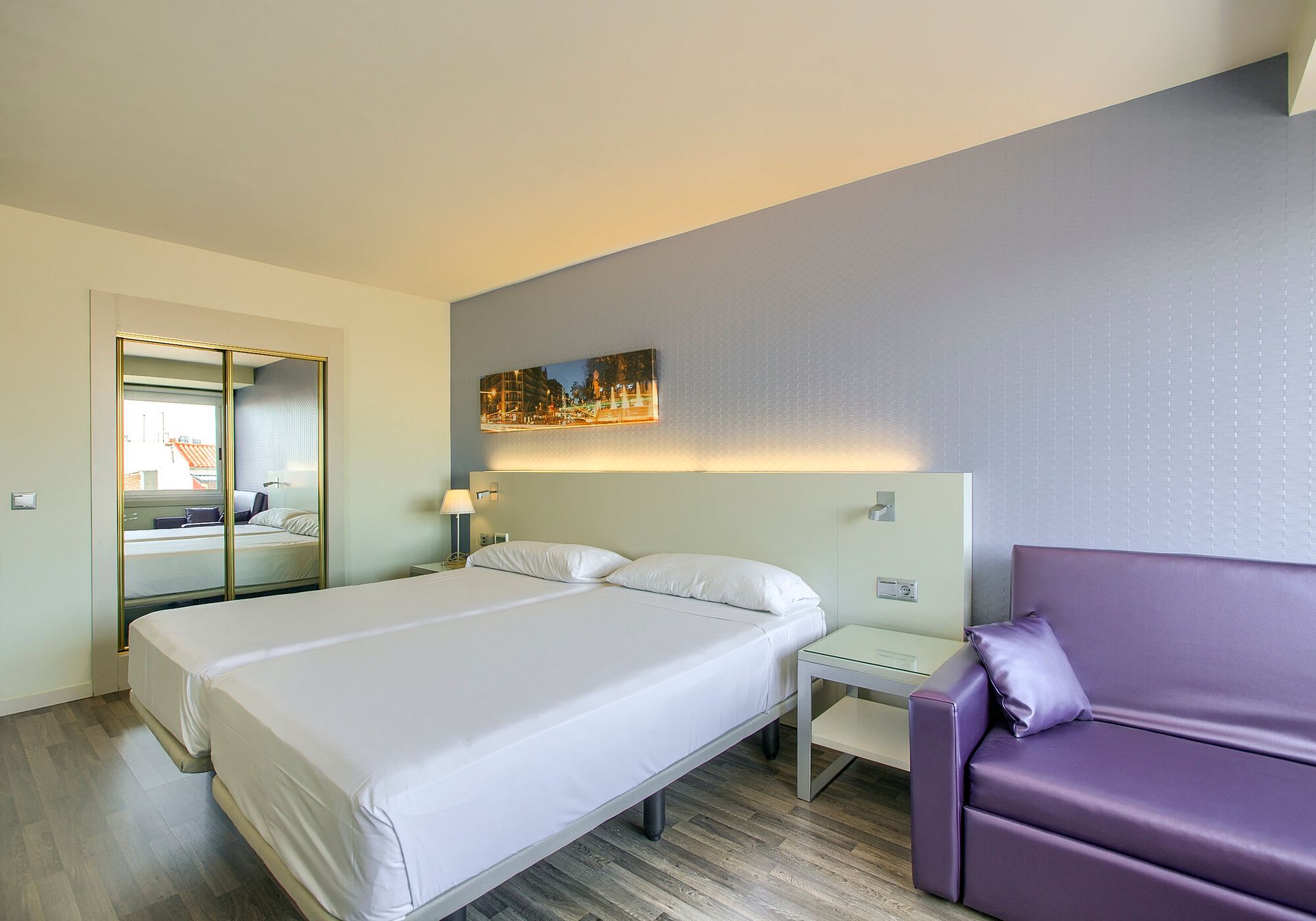 Naitly Madrid Chamberí Hotel
Immerse yourself in the heart of Madrid's most traditional district.
Get the best price on the web
Naitly Chamberí offers a perfect location to move around Madrid, in one of the most traditional districts of the capital. There are spacious green areas for walking or various sports in the vicinity, such as the Bravo Murillo and Ríos Rosas parks. In addition, the district is an optimal location for business trips.
Naitly Madrid Chamberí
Choose your space in Madrid
Flexible cancellation available
We have flexible rates in all our accommodations
Stay longer
Up to -40% discount for longer stays.
Family room

More info

1 double bed or 2 twins
1 bunk bed
Exceptional location
José Abascal, 8

28003 Madrid (Madrid) España
From the airport

Line C1 Cercanías to Chamartín. Then, metro line 1 towards Valdecarros to Ríos Rosas.

By metro

Line 7, Alonso Cano and Canal stations. Line 1 Ríos Rosas.

By taxi

You can order a taxi online from the tele-taxi.es website.

By train

You can go to Atocha or Chamartín. In both cases, these train stations are connected by metro line 1 to your apartment, taking you to the Ríos Rosas stop.
Naitly Madrid Chamberí
Amenities at Naitly Madrid Chamberí
We have what you need for a high quality stay. A new way of understanding space, with no restrictions or limits for yout to enjoy the best experience.
Naitly amenities
Your phone is your key
24/7 online reception
Wi-Fi
Express check in

Dogs allowed

Bed linen and towels

Air conditioning
Very close to Paseo de la Castellana.
Neighbourhood with bars and restaurants
Easy access from the highway
Early check in, late check out 1
TV
1 According to availability
Naitly Madrid Chamberí
Frequently asked questions about Naitly Madrid Chamberí Hotel
What is the closest metro station to the Naitly Madrid apartments?

Communications are optimal, one minute from the Alonso Cano metro station, on line 7, and four minutes from Ríos Rosas (line 1) and Canal (lines 2 and 7).

Are pets allowed in the Naitly Madrid Chamberí apartments?

Yes, your pets are welcome in our accommodations with a paid supplement.

Does the Hotel Naitly Madrid have private parking?

No disponemos de parking, pero en las cercanías hay varios espacios de aparcamiento a los que llegar en menos de cinco minutos caminando. Los más próximos están en la calle Ponzano, en Ríos Rosas y en García de Paredes.
Naitly Madrid Chamberí
Travel guide to discover Madrid
What to see near your apartment Naitly Madrid Chamberí

The recent remodelling of the surroundings of Canal de Isabel II has transformed this area into one of the city's green lungs. In recent years, several parks have been created in the old canal installations, in a space that has become fashionable for its modern ambience and atmosphere of wellbeing.

It is also worth noting that the district is a privileged location for those travelling on business, with the Castellana and the financial district of Azca very close at hand. In addition, the area offers multiple leisure options, such as shops, restaurants and cafes. Other exciting things to see and do include nearby museums such as Sorolla or Natural Sciences and the Canal de Isabel II Room exhibitions, allowing culture to take centre stage. Also very close are the Amaya theatre and the Abadia, an old church transformed into a scenic setting. As for buildings of interest, the Palacio Maudes or the Casa de México in Spain are amongst the most significant.

Where to eat near your Naitly Madrid apartment

Nearby there is a wide gastronomic offer, with options for all tastes. For example, if you want to try one of the traditional Madrid classics, the Zalacaín restaurant is just over ten minutes away on foot. Other appealing proposals just five minutes away are Alma Cheli or La Malcriada Ponzano, where you can sip vermouth and taste delicious tapas or a regional stew. These are just a few suggestions, but you can also find several restaurants offering Italian cuisine, tapas bars etc.

Shops and stores near your Hotel Naitly Líbere Chamberí

If you like neighborhood life and shopping, you are in the right place. Chamberí preserves that traditional Madrid air and the best of traditional commerce, which coexists with the most modern places. Bookstores, board game stores, skating or surfing equipment are just some of the examples of the variety that you can find. Just ten minutes walk from your apartment is the Plaza de Chamberí, an area dotted with shops of all kinds. The journey to the Glorieta de Bilbao is an ideal route for an entertaining walk, window shopping and shopping.